---
STRIKE NEWS: The WGA voted overwhelmingly in favor of the new contract, 93.6% of the 4,060 votes cast in Los Angeles and New York. Congratulations to all the writers who worked so hard to benefit future generations of the craft. More details.
---
STRIKE NEWS: Writers Guild Members Vote to End Strike; WGA/West here and WGA/East here. Members of WGA Vote by 92.5% to Lift Strike.
...so it's back to work tomorrow...
---
You can write!


Fans4Writers heartily congratulates the Writers Guild of America on a successful resolution to the writer's strike. While we understand this may not be the perfect deal, we are glad that you have an outcome that you can live with, and which allows you to get back to doing what you do best.
We have been proud to stand by your side during the strike and negotiations, and we are awed by your solidarity of purpose and the incredible sacrifices you made to ensure the livelihood of not just yourselves, but future generations of writers. While we did what we could to offer moral and financial support, you were the ones risking your futures.
But money and food are transitory. What we hoped to provide -- Fans4Writers and other grassroots organizations around the world -- was the knowledge that more than ever before, fans stand behind the creators of the works. We have witnessed a remarkable outpouring of effort and support that transcended niche genres, and we have announced in no uncertain terms where the fans' loyalties truly lie. We hope that the studios have taken notice of this, and will realize that we will always stand behind you.
As we have said from day one, without the writers, there would be nothing for us to be fans of. Thank you, congratulations, and we eagerly look forward to enjoying your work again soon.
The Victory Fist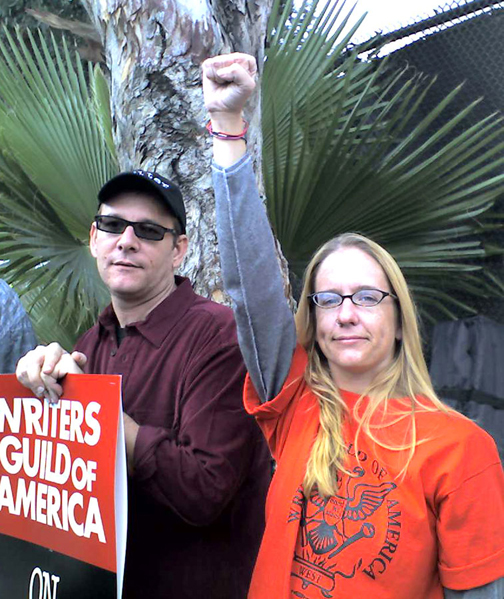 ---
STRIKE NEWS: Details of the tentative deal between the WGA and the AMPTP have been released. Read the summary here, the WGA Presidents' letter here, and feel free to come discuss it here. The WGA met yesterday (2/9) in New York and last night in LA for the writers to talk it over.
---
ACTION ALERT: The WGA is gearing up for what could be the final mass picket of the strike Thursday, February 7 at Disney Studios. No theme for this one beyond "we're still here, and we want a fair deal." More details
---
ACTION ALERT: On Wednesday, February 6, join the writers, producers and cast members from Sci Fi Channel's BATTLESTAR GALACTICA, EUREKA, FLASH GORDON, PAINKILLER JANE, and others for an afternoon rally at NBC Studios. Actors already confirmed include Colin Ferguson ("Sheriff Jack Carter"), Salli Whitfield, Ed Quinn, and Debrah Farentino with more TBA. More details.
---
ACTION ALERT: Teaching Thursdays continue on February 6 ("Spooky Wednesday" this week) as aspiring writers get the chance to learn more about the craft. Writers from SUPERNATURAL, MOONLIGHT, THE SARAH CONNOR CHRONICLES, plus a few surprise guests, will be there to answer all questions. More details.
---
INFO ALERT: What do writers want, anyway? United Hollywood reprinted an explanation of how those residuals work, anyway. More details.
---
STRIKE NEWS: WGA makes deals with Intermedia and The Film Department, similar to the agreements already made with Lionsgate, RKO Productions, Marvel Studios, The Weinstein Company, United Artists, Sidney Kimmel Entertainment, Spyglass Entertainment, MRC, Jackson Bites, Mandate Films, and Worldwide Pants. More details.
---
NEWS ALERT: Fans4Writers and Fans for the WGA have joined forces on a strike news blog so you can get all your updates in one place. Head to UnitedFandom.com for a daily update of just about everything to do with the writers' strike. More details.
---

Fans4Writers is unaffiliated with the WGA, except in spirit.
This website has been viewed times.